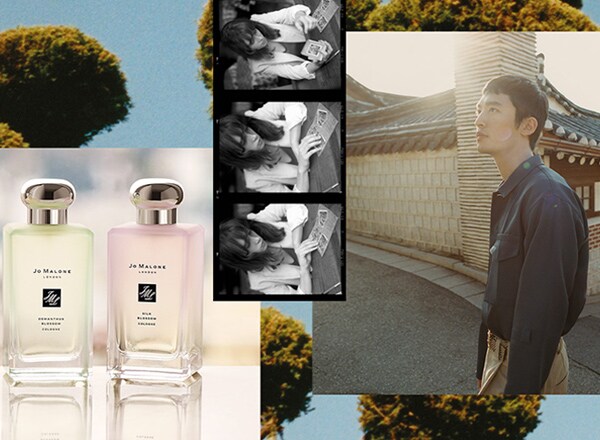 Spring is upon us, and with it a new limited-edition collection full of contrasts and enchantment.

Adventure is propelled into scented life this Spring… and it's done with the signature Jo Malone London twist: through a stimulating game of sensorial contrasts that celebrate the differences between mouth-watering citrus fruits and serene floating blooms, alive in a secret garden.

On one side of the secret garden, the invigorating Yuja fruit, pumped with vibrancy, ripening in abundance on verdant trees and fizzing with fragrant flavour. On the other, the tranquil and pristine Waterlily capturing the beauty of the floral crown jewel of the garden pond. Step forward two new stars in the Blossoms Collection, Yuja Cologne, replete with zesty citrus tang and the serene aquatic Waterlily Cologne. Deliciously different; both united by the giddiness and sense of adventure that Spring time brings.
Waterlily: a Still, Pure, Glasslike Floral
Behind the Blossom
Tucked away and out of sight, the secret garden calls. Peek inside and you'll discover its glowing prize: a glassy pond of mirror-still water used as a space of mindful reflection. Suspended on this pond is a floating patchwork of lush water lilies with their intense green leaves and bright white petals. It was this illusion of ethereal scent and stillness that totally captivated Head of Global Fragrance Celine Roux's imagination. 'I wanted to capture this crystalline sensation of suspension with a floral watery scent.'

The Scent Creation
To bottle that purity, perfumer Mathilde Bijaoui concocted a conceptual accord of water lily using a touch of ginger and watery  notes to balance the white petals and enveloping musk. Jasmine sambac completed the puzzle, infusing the cologne with body, presence and personality.
Yuja: an Energetic, Addictive Citrus
The Citrus Twist
Not quite lemon, not quite grapefruit… the yuja fruit, more commonly known by its Japanese name of yuzu, is an enigma of juicy, bitter, soft and refreshing sensations. Curiously, it reaches its ripest peak in early winter, when the fruit turns from green to vibrant yellow. It's this flash of gleaming sunshine against the frost-glittered groves that shaped the concept for a zesty and fizzy cologne. Can we let you in on a little secret? 'We called this project the 'Blossom Boy'!' says Celine. 'Every Blossom collection in the past has been very feminine so we wanted to offer a new concept that would appeal to everybody.'

The Scent Creation
The challenge was to somehow anchor this luminous, ice-cold citrus, a feat achieved with a clever balance of herbs such as clary sage and lavender, a tart squeeze of tangerine for intense luminosity and fir balsam for an addictive and long-lasting roundness. And as for the star ingredient of the cologne: an exceptional quality natural yuja extract developed especially for this project.
How the Blossoms Collection began…
The idea came ten years ago with a limited-edition fragrance called Sakura Blossom, inspired by the magical gardens in Japan. 'We realised that everyone around the world relates to the excitement and optimism of spring's blossom arrival,' says Celine. This year, Osmanthus Blossom stages a comeback with its shimmering, sparkling rush of luscious white blooms swept up in earthy woods. And we welcome back Silk Blossom, gloriously apricot-y, with powdery heliotrope and airy rose petals. And for your home, the Orange Blossom Home Candle and Diffuser flood every room with the essence of spring. 'It's as if you have stepped into a glass-walled orangery,' says Celine. Let the light in…